Portobello Market
Market opening times
09:00 – 18:00 Monday To Wednesday
09:00 – 13:00 Thursday
09:00 – 19:00 Friday and saturday.
The antiques and bric-a-brac stalls are open only on Saturdays and trading may start a little earlier.
 Christmas Opening Times – closed Christmas Day & 26th December, otherwise open as usual.
Portobello is really several markets in one, Saturday being the day when all are in full swing. Then you can experience a mile of hustle, haggle, colour and energy. The feature of Saturdays is the opening of hundreds of antique and specialist shops and stalls. There are some talented and bizarre street performers to be spotted too.
Antiques & Bric-A-Brac
Chepstow Villas – Elgin Crescent
The markets main attraction is the vibrant  antiques section which is located near Notting Hill tube station; The half mile of road contains 100′s of  buzzing market stalls, shops and arcades.  You can expect to find a wonderful and wide array on antiques dating from BC to the 1960′s on offer including items such as glass and crystal, silver, books and many other collectibles.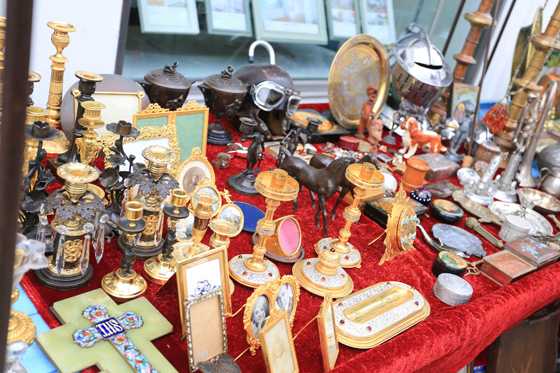 Saturday is main antiques trading day, although some shops are open on Fridays (stalls are not) and trading generally starts around 8:30-9:00am. It's best to arrive before 11:30am if you want to avoid the crowds before they get too bustling.
Fruit & Veg
Elgin Crescent – Talbot Road
Iconic London market stalls as full English character as they're fruit and vegetables come next after the antiques section. You will also find a few bread stalls, cakes, a fish mongers and a cheese stall here.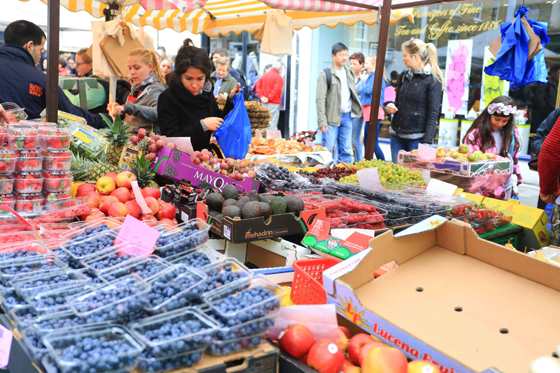 New Goods
Talbot Road – Westway
The new good section is more  typical London market traders with stall selling cheap socks, toys, batteries etc.
Fashion Market
Dotted around the street – Westway Area
Shop from vintage bags, lace and fur coats to more touristy london t-shirts.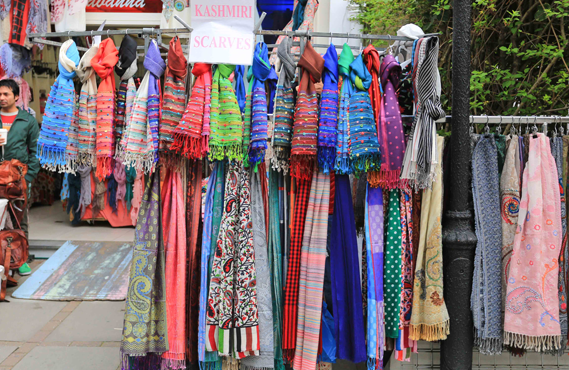 Around Westway you will find the area some call the "Fashion Market" which has second hand clothes stall side by side with young new designers.
You will also find a number of bigger brand shops in this area.
Second Hand Goods
Westway to Golbourne Road
Usually more a destination for locals than tourists, this section of the market offers second hand good including clothes, great for any fashionista hoping to pickup a bargain.